Gold Coast Water City Resort (Malacca) Overview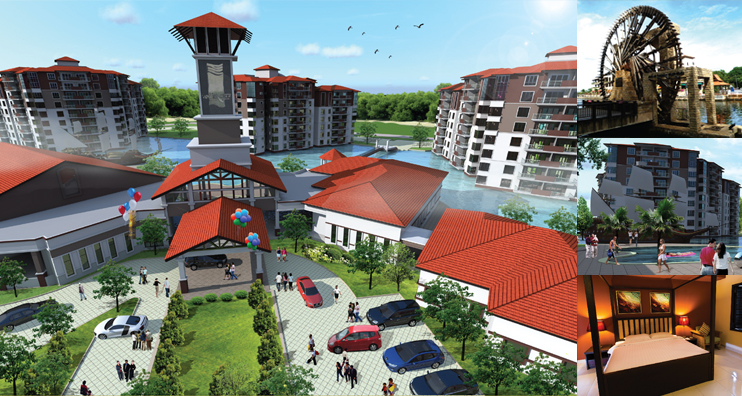 Gold Coast Water City Resort (Malacca) is located in a strategic landmark, it takes about an hour to travel to and from on road transport between KLIA and KL City Center. 5-10 minutes to MITC; Jusco shopping center; National Zoo of Malacca; Crocodiles Farm; and Butterflies Park. 15 minutes to Malacca City Center.
The main theme of Gold Coast Water City Resort (Malacca) would signify as a big sailing ship. It comprises of four blocks of building, two 8-storey and two 9-storey, every storey consists of 8 units of different types of modern design premises. The buildings are 24 hours security guarded. These buildings are the 2-Room Apartment (1038 sq.ft.); 3-Room Apartment (1338 sq.ft.); others like executive suites (1498 sq.ft.) fully equipped and renovated at 5 stars rating suite room standard. In every building exquisite broad walkway at the elevator lobby, V-shape structural design enables ventilation airflows and elegant lighting effects on the surroundings. The balcony is either at lake view or water park view.
Gold Coast Water City Resort (Malacca) would invest RM3.0 Million to build an antique galleon, its base level would be a mini live piano concerto western cuisine restaurant, 60 VIP seats and 2 private dinning rooms. Grand aquarium view at the bottom level of the ship which allows guests to watch undersea marine lives swimming while enjoying a drooling and tasty meal with wines and tuneful music by our first class chefs and pianist, feel the exotic lifestyle of being served like a Neptune.The resort also provides other exclusive facilities of 9 multi-functional banquet halls to hold 80 tables or 1200 heads of audience occupying them as a conference room or throwing a Western/Eastern buffet. There would be a 180 seats Japanese Restaurant; Karaoke with 9 private premium rooms; Wine & Liquor and Cigar stores.
Gold Coast Water City Resort (Malacca) Room & Facilities
Serviced condominium from RM468,000
CF Granted, avail to immediate occupancy which may save and omit at least 3 years construction periods up to a draw down interests as high as RM50,000
Fully equipped with exclusive furniture , fixtures and electrical appliances in every suite room.
A cost of RM10 million on improving the facilities in the water city park, swimming pools and playground of the resort.
A cost of RM3.0 million to build a Cheng Ho ship structure with the aquatic bottom piano concerto western restaurant.
A cost of RM3.0 million to construct a 5 Star multifunctional hall.
A cost of RM3.0 million to construct 8 International class conference halls.
A cost of RM2.0 million to construct one Japanese restaurant, Wine & Cafe House,Karaoke pub, VIP compartments, Resort Lobby and Wellness Center.
5 years warranty on building fixtures under regular maintenance.
Childen Playground
Water Theme Park
Swimmning Pool
Boat Rowing Area
Multipurpse Square
Fishing Area
Karaoke & VIP Compartments
Indoor Exercising Games
Grand Receptionist Lobby
Floating Restaurant
Aquatic Piano Concerto Western Restaurant
Sankai Japanese Restaurant
Cyber Cafe
24 Hours Receptionist Service
Fitness & Wellness Centre
Gym Room
Immediately followed by another major vision plan of the STG Group, this goes to its largest implementation of integrated resort industry development plan. This mega integrated plan would confer excellent conditions for home-stay operations to achieve high occupancy rates. In 2016, a year with well prepared investment capital and a good marketing strategy, the Group is launching 3 mega integrated plans which focus mainly on tourism industry. These projects would include a primary 5 kilometer long coastline paradise resort hotspot, the Gold Coast Worldˇ¦s First Village, its construction cost is estimated at RM 50 million, coverage area of 110 acres, which would offer 158 types of luxury villas for accommodation pleasures. Secondary stage would develop a five-star hotel, A recreation yacht club by the seafront, a medical center, an international academy institution and health care retreat center, high end serviced residences condo etc. The proposed 158 units of luxurious villas, over halves are reserved for international buyers who came from countries such as China, the Middle East, Hong Kong and Taiwan.
Another best place for tourism theme to be found at Gold Coast Morib would be focus on a 10 storey hotel mall shop and tour concepts, The hotel mall, starting from the ground level till third level consist of 298 units of souvenirs and handicrafts shops, retail and wholesale showrooms, function rooms etc. The upper levels are 118 units of first class business suites. The hotel mall would erect a Karaoke centre with 50 exclusive partitioned rooms, and a grand ballroom able to cater for a banquet of 250 tables. The building structure would be based on a friendly environmental concept. Its construction cost is estimated at $60 Million. Expected year of opening would be in 2014.
Gold Coast Pangkor Resort and Gold Coast Kenyih Resort, both projects which to be built on islands are pending approval of the development plan and are yet to be final soon. We ensure to meeting with the market demands as to create and provide a comfortable accommodation, a series of low maintenance costs of high-quality resort.
Nevertheless, STG Group has put its fullness of focal point on transition into resort tourism industry. But the Group is still eagerly undergoing housing development projects without hesitation. These promised housing developments are to benefit more needed house owners to fulfill their homes. In sequel to the Pulau Indah housing Phase 11 to Phase 13 which would be handed over soon with CF, Pulau Indah Phase 14 to Phase 16 would also be launching another 133 units of single storey terrace by this year. Other projects at Saujana Kapar Sementa with 58 units of single storey terrace, 31 units of shop lots at the Kapar Bumi Mall are expected to obtain CF in June. The following two years would launch 4 massive 15 storey condominiums worth a value of RM 150 Million, this future plan is The Nottingham International to be erected in Semenyih, Kajang. The Group is also seeking for continuous tourism assets like potential programs in co-operation merger or joint acquisition of properties to achieve the final aim of connecting all resorts from hill site to the lake, the sea and the island throughout the whole Malaysia tourism plan within the next 5 years.